Diabetes and Emergencies
Your Diabetes Emergency Plan
---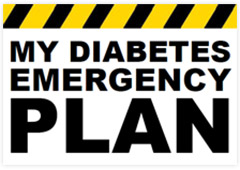 ---
When you live with a chronic medical condition, such as Diabetes - diligence, foresight, and advanced preparation are truly important.
When an emergency situation or natural disaster strikes:


at home
at work
while on vacation
during hurricane season
tornado season
extended periods of unexpected hot or cold weather
blizzards, fires and floods
an automobile breakdown, which strands you away from home
This disruption of your normal routine, and your limited access to the much-needed resources can and will create chaos in your normally orderly life.
Being caught unprepared for these types of events can be potentially life-threatening to a Person With Diabetes.
Emergencies tend to happen when we least expect them, and when we are least prepared for them, as well. An Emergency Kit, prepared well in advance, and regularly checked and it's contents updated, is the best way to avoid getting trapped unprepared.
Your Diabetes Emergency Plan is a way to keep everything you will need to survive an expected, disruptuve event, which will either leave you stranded away from home, or force you to leave your home for an extended period of time. It may also leave you and your loved one's at home, without lights, electricity or a way to communicate with the outside world for several days, or longer.
You should prepare for this event by purchasing a:
portable
durable and unbreakable
waterproof
lightweight container
which you can close securely
and place all of the item which you will need within this box.
What to Include:
Purchase a 5x8 (or 8-1/2x11) inch Notebook
Entries In This Notebook should include:
The Type of Diabetes You have.
The name(s) of all your Medical Team Members.Include all contact information including a phone number.
A list of allmedications you take. Include both prescription and non-prescription medications, and the name, address and phone number of the pharmacy you use.
Previous Diabetes medicationsand the reason they were discontinued.
A letter from your Healthcare Provider which indicates:
You are a Type ___ Diabetic.
Your most recent Medications. The more complete this information is, the easier it will be for you.
If you use Insulin or another Injectable diabetes Medication, make certain that this is stated in the letter
Your most recent laboratory test results (especially A1c, Kidney and liver tests).
A 30-day supply of all your current medications taken both by mount and by injection, for diabetes and other medical condition. Include your insulin and several glucagon emergency kits (if prescribed).
Blood Glucose Testing Supplies including lancets, test strips, controls, and several sets of batteries. If a second blood glucose meter is available, include it as well. Pack extra test strips too.
A cooler to store your insulin and other injectable medication. You should also include re-freezable gel packs to keep these medications cold. You will place your insulin and other injectable medications in this cooler, before you leave.
A sharps container to store used lacnets and needles safely.
Food and Water
Juice boxes, Glucose tablets, or Gel, Regular Soda, Candy, Honey and other items you use to treat low-blood sugar reactions.
A 2 to 3-day supply of nonperishable foods. These may include wrapped peanut butter or cheese cracker snacks, meal replacement shakes and bars.
A 3-day supply of bottled water.
First Aid Supplies
First Aid Supplies (adhesive bandages, dressings, cotton swabs and topical ointments.
Make certain that all vaccinations, especially tetanus are up-to-date.
Shoes and clothing
Wear comfortable shoes at all times, and check your feet daily.
Pack extra comfortable clothing, and include extra socks, and undergarments.
Bring a cell phone, charger and additional batteries.