---
Diabetes and Foot Care
Introduction
---

>

Diabetic foot problems are a major health concern and are a common cause of hospitalization.

Most foot problems that people with diabetes face arise from two serious complications of the disease: nerve damage and poor circulation. The lack of feeling and poor blood flow can allow a small blister to progress to a serious infection in a matter of days. Chronic nerve damage (neuropathy) can cause dry and cracked skin, which provides an opportunity for bacteria to enter and cause infection.

The consequences can range from hospitalization for antibiotics to amputation of a toe or foot. For people with diabetes, careful, daily inspection of the feet is essential to overall health and the prevention of damaging foot problems.



---
General Care of the

Diabetic Foot
---


Never walk barefoot. The nerve damage decreases sensation so you may not notice that little pebbles or objects have gotten stuck in your foot. This can lead to a massive infection. Always wearing shoes or slippers reduces this risk.
Wash your feet every day with mild soap and warm water. Test the water temperature with your hand first. Do not soak your feet. When drying them, pat each foot with a towel rather than rubbing vigorously. Be careful drying between your toes.
Use lotion to keep the skin of your feet soft and moist. This prevents dry skin cracks and decreases the risk of infection. Do not put lotion between the toes.
Trim your toe nails straight across. Avoid cutting the corners. File off any remaining, uncut edges by using an emery board.
If you find an ingrown toenail, see your doctor. Good medical care is important in preventing infections.
Do not use antiseptic solutions, drugstore medications, heating pads, or sharp instruments on your feet. Do not put your feet on radiators or in front of the fireplace.
Always keep your feet warm. Wear loose socks to bed. Do not get your feet wet in snow or rain. Wear warm socks and shoes in winter.
Do not smoke. Smoking damages blood vessels and decreases the ability of the body to deliver oxygen. Smoking, in combination with diabetes, will significantly increases your risk of amputation, not only of the feet, but can include the hands, as well.
To avoid serious foot problems that could result in losing a toe, foot or leg, follow these guidelines.


Inspect your feet daily. Check for cuts, blisters, redness, swelling or nail problems. Use a magnifying hand mirror to look at the bottom of your feet. Call your doctor if you notice anything.
Bathe your feet in lukewarm, never hot, water. Keep your feet clean by washing them daily. Use only lukewarm water, the temperature you would use on a newborn baby.
Be gentle when bathing your feet. Wash them using a soft washcloth or sponge. Dry them by blotting or patting, and carefully drying between the toes.
Moisturize your feet but not between your toes. Use a moisturizer daily to keep dry skin from itching or cracking. But do not moisturize between the toe, that could encourage a fungal infection.
Cut nails carefully. Cut them straight across and file the edges. Don't cut nails too short, as this could lead to ingrown toenails. If you have concerns about your nails, consult your doctor.
Never treat corns or calluses yourself. Avoid the use of medicated pads, which can cause allergic reactions or other unwanted complications. Visit your doctor for appropriate treatment.
Wear clean, dry socks. Change them daily.
Consider socks made specifically for patients with diabetes. These socks have extra cushioning, do not have elastic tops, are higher than the ankle and are made from fibers that wick moisture away from the skin.
If your feet get cold at night, wear socks. Never use a heating pad or a hot water bottle.
Shake out your shoes and feel the inside before wearing. Remember, your feet may not be able to feel a pebble or other foreign object, so always inspect your shoes before putting them on.
Keep your feet warm and dry. Do not let your feet get wet in snow or rain. Wear warm socks and shoes in cold weather.
Consider using an antiperspirant on the soles of your feet. This is helpful if you have excessive sweating of the feet.
Never walk barefoot. Not even at home. Always wear shoes or slippers. You could step on something and get a scratch or cut.
Take care of your diabetes. Keep your blood sugar levels under control.
Do not smoke. Smoking restricts blood flow in your feet.
Get periodic foot exams. Seeing your foot and ankle surgeon on a regular basis can help prevent the foot complications of diabetes.
---
Trimming Toenails:

The Basics
---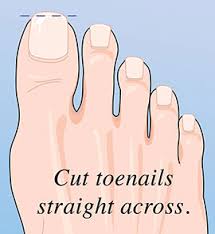 How to Properly cut your Toenails
---


Use toenail clippers. Fingernail clippers are for fingernails and toenail clippers are for toenails, makes sense, right? The larger clipper will cut your toenail more effectively. Don't forget to disinfect your clippers and any other tools with rubbing alcohol. Purchase a good quality, well manufactured, set of toenail clippers.
Cut straight across Cut the nails straight across and do not cut the nail into a curved shape.
Leave nails a little long. Short toenails can lead to ingrown toenails. Leave them a little longer, level with the front surface of your toe.
Think dry, not wet. Trim those toenails when they're dry. Wet nails can tear or bend or lead to a ragged shape.
Make a few small cuts. Make a few small cuts across your nail when trimming them. Trying to cut them all at once is not a good idea.
Use an emery board, and not a metal nail file to smooth the edges. A metal nail file can tear your skin, which can lead to infections.
Don't cut cuticles. This is very important to remember, not cut your cuticles. Use a cuticle stick and push them down. Cutting can cause pain and bleeding.


See a Podiatrist Regularly
Remember to see your Podiatrist on a regular basis. A visit every 3 or 4 months is best. Have your feet checked for calluses, corns and bunions, and have these treated and/or removed correctly, to avoid complications or unwanted problems.
In Conclusion
The proper c+are of your feet and learning how to correctly cut your toenails is critical when you have diabetes.
The complications of diabetes, and the chance that, as your diabetes progresses, and the chances of circulation problems increases, is a very real threat.
Learn how to take care of your feet and avoid the complication associated with both diabetes and other problems.